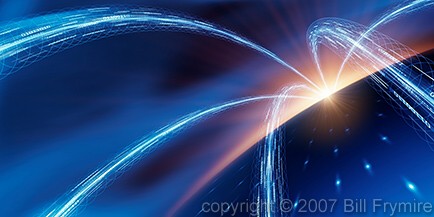 Do more cores really make a difference? Are the extra cores worth the extra bucks? Or is this just the latest way "the man" is stick'n it to you?
I recently upgraded my main computer system to a dual processor Quad Xeon system with 16 GB of Ram.
If you are still reading this then you are enough of a computer geek to be interested in this article. If you use photoshop alot, it's good to know wether to splurge for the quad-core (or more) proccessors over the dual-core chips. My main work programs are Photoshop CS2 and Max (with Brazil) for my 3D work. I was interested to know what parts of Photoshop were optimized for multiple cores/processors by being multi-threaded.
warning, geek speak to follow….. My justification for going to a eight-core system was based on the faster rendering I would achieve with more CPU power and also the fact that I could easily put 32GB of memory in the machine. Typically, single processor machines have only 4 memory slots, my new machine has 16. Most of the time, my CPU usage never goes beyond 15%, but I can now run multiple memory hungry applications at the same time without the slowdown I used to experience.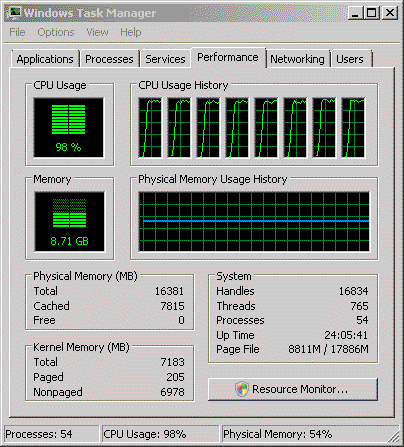 I've been keeping an eye on the task manager to determine what level of multi-threading the computer was doing when running various tasks and filters within photoshop. Here is what I have found.
97% to 100% cpu use – all 8 cores working
Genuine Fractals 5 resize filter
Radial blur
Median
Maximum
Minimum
90%
Dust and scratches
80%
Noise Ninja – remove noise
60%
resample -16 bit bicubic or bicubic smoother
40%-50%
Free transform
25%
convert from 8 bit to 16bit
15% Not multithreaded
Gaussian blur
Lens blur
Motion blur
Warp
Unsharp mask
Rotate- canvas
Noise Ninja – profile image
opening files
saving files
Two of my most used filters and the ones that I spent the most time waiting before are clearly benefiting from the additional cores. I use the Genuine Fractals filter in conjunction with a sharpening action from Noel Carboni for sharpening many of my images. With my previous computer system, I was running about 5 minutes per image. With the new system it's down to around 20 seconds.
Noise Ninja is used on some of my higher ISO images and here too the extra CPUs are getting put to use, not in the profile generation, but 80% in the filtering.
I'm waiting till Photoshop CS4 comes out in native 64-bit before upgrading Photoshop, and hopefully they will multi-thread some of the other filters by that time.
All in all , I'm pretty happy with my choice to go with 8 cores and 16 GB of Ram. The extra cores do make a difference for my applictions, and you can future proof your investment as you can bet that more and more software will be optimized for multi-core systems.
Anyone working on a Mac can do the same by buying a new Mac-Pro 8 core system. Just remember to save yourself a few bucks and only buy the minimum memory config. and purchase your extra Ram from a reputable third party source.
Happy computing!
3 Comments on "Multi-threading in Photoshop – geek speak"
jd Says:
May 7th, 2008 at 6:43 pm

Another area of Photoshop which is highlythreaded, is the interaction between Bridge and CS2/CS3. I.E. folks who batch process will see tremendous gains, and the lighting up of all available cores. :~)

Bill Frymire Says:
May 7th, 2008 at 8:30 pm

Thanks, I was unaware of that, I use the automate/batch function within photoshop but haven't noticed any multi-threaded gains there.
-Bill

Jo Says:
July 15th, 2010 at 10:57 am

What about the automate function Photomerge ?
I have a dual Xeon quad and it only goes to 25% of CPY speed.
I don't get it because I try to merge 20 photos and it takes like 20 minutes and the CPU never goes higher than 25%.

Is there a setting ton change in Photoshop for multithreading ?

Thanx !
Post Comment