style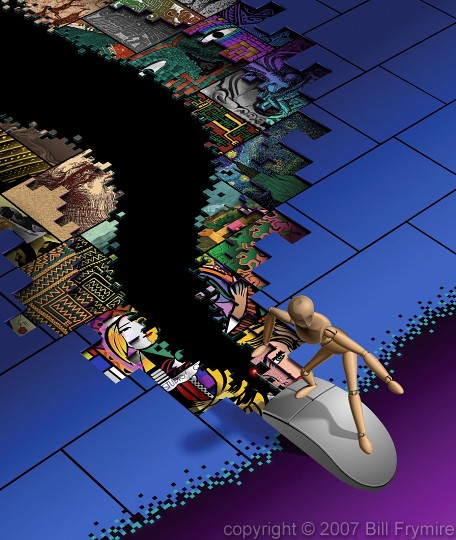 What is my style? well, I started out doing mainly vector images and gained some notoriety in that area by winning the Corel Draw world design competition in 1992. with my image Rex. The problem with vector was that it was very time consuming to get something to look realistic which was kind of my "style" at that time.
Photography was a revelation for me when I took it up again in my late 20s. I had developed tendinitis from overuse of the mouse so anything that got me using other muscles was a welcome change. I'm still very passionate about photography and see that as a growth area for me as the possibilities are so endless and the results are instantaneous.
Lately, Photoshop has become my main tool on the computer. I am constantly being asked to tutor. If you want to learn a few Photoshop tricks you can view the videos at photoshopusertv.com , as long as you can stomach the infomercial-like banter from the mostly likeable computer geeks.
I guess I have two styles, one for my stock imagery, which I create for mass consumption, so I'm going for maximum impact and hit you over the head message delivery.
With my fine art, I strive to be a little more subtle and do it in a much less rushed pace so the I can put more of myself into it. For some reason I keep coming back to some sort of cubist deconstructionism using a grid as seen in Rex and my mosaic work. I think there is a lot to explore in this style so I'm really hoping I'll have the time to investigate it much further.
The other thing I'm into is detail, but perhaps I'll save that for another entry.
-Bill