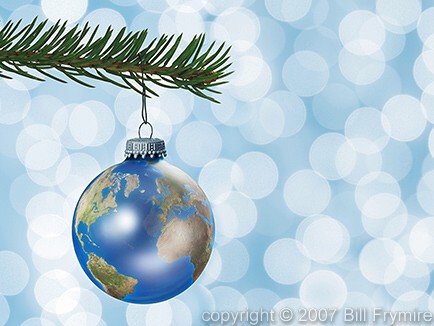 (click image to enlarge)
The Christmas tree ornament was shot in studio using a 70-180 f4 macro lens with a 2 second exposure @ f5.6 on a Nikon D2X. The earth was created in 3D Max and then everything was combined in Photoshop.
You can find this image in my gallery under concepts>>holidays>> Earth as an ornament.
2 Comments on "A wish for world peace – image of the week"
Beth Dixon Says:
October 7th, 2008 at 8:18 am

Our community (Springfield, Ohio) is hosting its fourth annual Alternative Christmas Market, and your "Wish for World Peace" photo would be great for us to use as a flyer. May we have your permission?

Beth

Bill Frymire Says:
October 8th, 2008 at 11:12 am

Thanks for your interest in my work. I make my living off of royalties paid for using my images. Each image is represented by a stock photo agency. Because I have an agreement with the agencies, I am unable to give you permission to use the image without asking you to contact the agent. This image is represented by Masterfile Corporation. You can call them at 1-800-387-9010 and quote image # 700-01183103. Let them know you are a non-profit and they may discount the pricing.
Post Comment