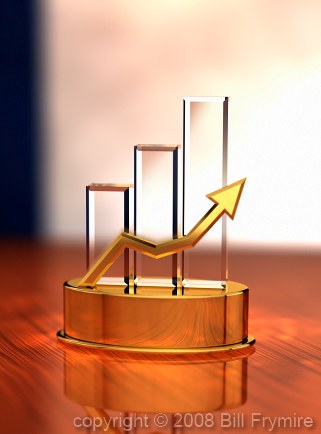 (click image to enlarge)
No photos were used in the creation of this image. I'm a big proponent of using the right tool for the job, Sometimes photography isn't the right tool.
This is a variation of an image that I originally created for a magazine cover last year. In this case, the client wanted a photo of something that didn't exist, which was a trophy created in 3D out of their new logo. I suggested a crystal version.
Many of their employees didn't believe the trophy wasn't real. I liked the way it turned out so I did a version with a more generic appeal for sales.
I used 3DMax with the Brazil renderer for the shallow depth of field look and then tweaked it up in photoshop.
You can find this image in my library under business>>traditional>>3D trophy
3 Comments on "Achieving your goals"
tim your bro Says:
November 4th, 2008 at 8:03 pm

Nice job Bill Very realistic
Tim

Scott Says:
November 5th, 2008 at 11:10 pm

what do I have to do to win that Trophy? i like the glimmering solid looking gold base. The reflective striations from the surface it rests on is a nice touch. The way they seem to converge and point upwards with the arrow focus's the center of attention to the arrow head. Was that intentional Bill?

Bill Frymire Says:
November 6th, 2008 at 12:39 am

The reflections converging and pointing upwards was not intentional, but I agree it helps focus your attention on the end of the arrow which was lightened intentionally.
Bill
Post Comment