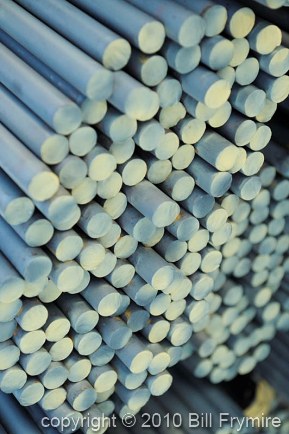 (click image to enlarge)
What is it? Part of my work involves shooting photos for commercial clients. I had the pleasure of traveling to Calgary and Edmonton last week to document the activities of a transportation company who unloads product from railway cars onto trucks.
The weight of some of the steel plates and rolls were enormous. Some of them were so heavy only one plate per transport truck was loaded.
The yards full of stacks of heavy duty steel were a photographer's delight. This is where I found these steel rods which will be melted down to make other steel products.
One Comment on "Alberta Steel"
Tim Says:
September 1st, 2010 at 7:46 pm

Hi Bill: Nice to see you turning even raw commercial footage into scenes of artistic beauty. The steel company is getting an skilled artist for the price of a photographer.
Post Comment