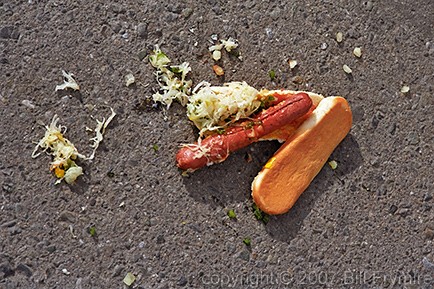 (click image to enlarge)
As we head into summer officially this week, I thought this image might be appropriate. Hotdogs tend to be a summer food for my family.  The image is another example of having your camera ready at the right place and time. On this particular day, I was walking into Costco and noticed this hotdog lying on the pavement. I felt sorry for the poor person who didn't even get a bite. I just happened to be carrying my camera so I decided to take a shot. Sometimes even the most mundane circumstances can offer great photographic opportunities.
One Comment on "Don't cry over spilled… – Image of the week"
Bill Frymire Says:
February 7th, 2010 at 11:32 pm

I really like this photo!
Post Comment