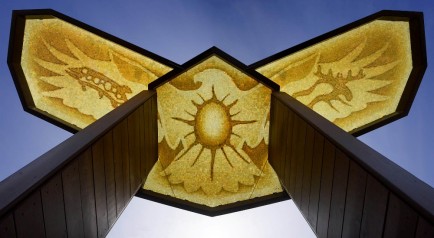 I am pleased to announce that the Spirit Eagle Canopy has been unveiled during the official opening of the Mikisew First Nations Elder Care Centre. 300 people attended the opening of the new state of the art care facility in Fort Chipewyan, Alberta.
This small community of 1000 people is cut off by road for most of the year due to the water and marshlands that surround it other than the two months out of every year that a winter ice road connects it to the south. I flew there last week to uncover, clean and handover the iconic bird to the people of Fort Chip.  In the evening when the sun hits it from West, the 17,000 translucent tiles begin to glow.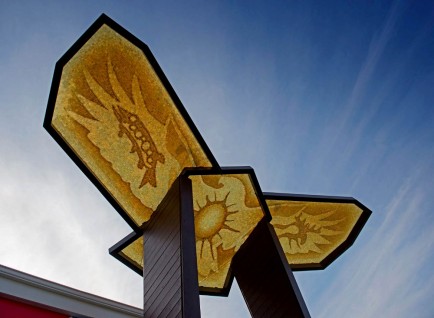 Created in a graphic style inspired by artist, Norval Morrisseau, this piece features three animals and their corresponding elements; the eagle, symbolizing air; the moose, symbolizing the earth and the fish, symbolizing water.
They are represented together in an original mosaic made from translucent onyx stone. The oval in the centre of the piece represents both the life-giving sun and the protective nurturing properties of an egg or womb, and embodies the notion of security and care that our Elders provided us which we can now return to them.
This expansive mosaic with a 25 foot wingspan, faces down toward the people walking below. It  is supported by cedar clad steel beams, representing the eagle's legs. The open stance of the legs creates a sense of welcome to visitors approaching the entrance while the Spirit Eagle's wings above provide shelter from the elements to those who venture under their protection.
I'd like to thank Everyone who was involved in this project .
One Comment on "Eagle Canopy Unveiling"
scott frymire Says:
May 28th, 2014 at 5:21 pm

Very Nice my Brother. I know the fort chip residents will be proud of this iconic symbol of their sacred traditions.
Post Comment