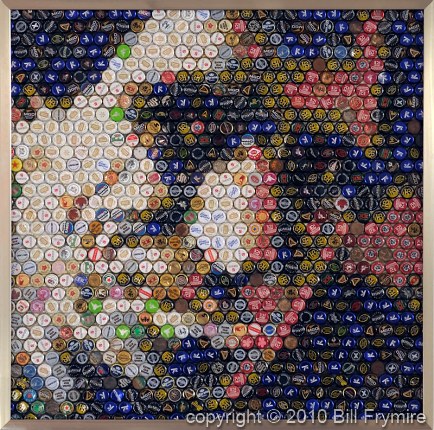 (click image to enlarge)
I was recently involved in a group show in Vancouver called "ReVision" where the emphasis was on creating art from recycled sources. The show went well with some very interesting work being shown there.  I entered my bottlecap portrait entitled "Keith in Beercaps"
I like to connect my subject with the materials used to create their likeness. In this case, Keith Richards, a well known alcoholic, is made from almost 1000  beer caps.
I've been collecting bottlecaps for over 3 years and now have a collection of over 10,000 caps. Not only do I save them from the landfill, but I find out what and how much my friends drink. I actually found myself choosing beer based on the colour of the cap!
Materials used:  recycled beer bottle caps,  recycled press board. The frame is made from recycled track lighting which also provided the copper picture hanging wire on the back.
I had some problems due to the extra shiny nature of some of the caps and ended up swapping most of the highly reflective ones out. Thanks to Barry at the Camera house for his help on the frame.
973 caps, 86 x 86 cm
Once again the image is best viewed from far away. Here's a smaller thumbnail to get the same effect.


One Comment on "Keith in Beercaps"
scott Says:
October 8th, 2010 at 3:24 pm

wow……great art Bill. I like It!
Post Comment