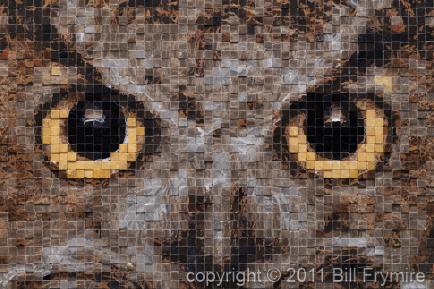 (click image to enlarge)
I recently posted a picture of my latest mosaic sculpture but thought I would post it again as this piece is being auctioned off at the Thompson Rivers University Foundation Gala on February 4th, 2012 in Kamloops BC,  to raise funds for the TRU foundation. Those not attending the sold out Gala can still bid on the piece via a live auction hosted by Ebay. I'll post the link when I have it.
Completed in October 2011, a roadside injured Great Horned Owl nursed back to health served as inspiration for this piece.  Comprised of 1734 marble and travertine tiles of various heights, it measures 31" x 21" and weighs approximately 22 lbs. The piece has a custom frame behind it, which enables the image to appear to float on the wall.
Post Comment