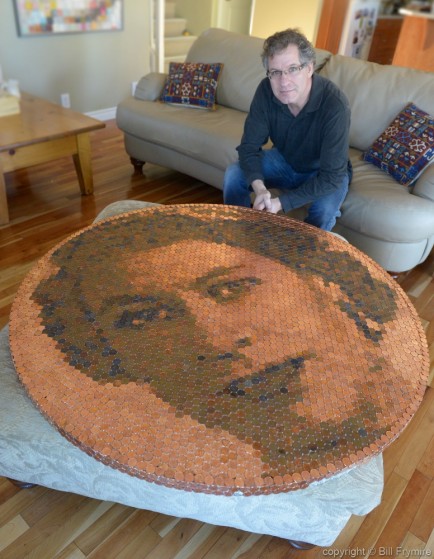 I've been so busy with this project lately, that I haven't had time to post about it. I'm on the home stretch now, which is good as I need to install it in 11 days.
I'm always looking for new material that works well for mosaics and noticed that pennies, which are being phased out in Canada, had a diverse tonal range from spanking new mint to old and almost black.
I got the idea to do a giant four foot penny as an entry into the Peace Arch Annual Sculpture Exhibit.
The penny sculpture has a portrait of the Queen on one side made from Canadian pennies, and the image of Lincoln on the American side created from US cents. "Two sides of the same coin", as I'm calling it, celebrates our two countries shared history and sameness, ironically using pennies that are as different as possible to create the portraits on each side. Little did I know how much work it would be and the challenges I would face.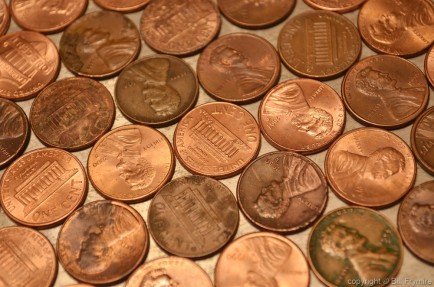 After my entry was accepted for the show, I was told that the penny holds special significance for the Peace Arch Park. Unbeknownst to me, back in the 1930s children from both sides of the border did a penny drive to raise money for the park. They raised enough to purchase an additional 40 acres for the park so it became known as "Penny Park". Talk about serendipity.
I originally planned to use the image of an older queen off the new $20 bill but had more luck with a image of a young Elizabeth when she first became queen. Much easier to look at than the "We are not amused" expression of the older queen. Once again, the mosaic material decides what image will work.
My friends and family helped out collecting the Canadian pennies and my mother-in-law who lives in the Seattle area, donated about 5500 US pennies. We had to make a side trip to Blaine, USA to purchase some more American pennies from a bank as we didn't have enough to complete the project.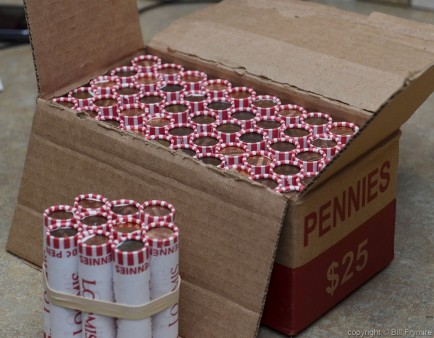 Then came the task of sorting and photographing over 20,000 pennies. Scanning doesn't work because of the reflective nature of the copper. I had to design and rig the lighting to evenly illuminate the pennies as a shiny penny will look dark if it is reflecting something that is dark. I had problems in the past with shiny materials, but I am starting to figure it out.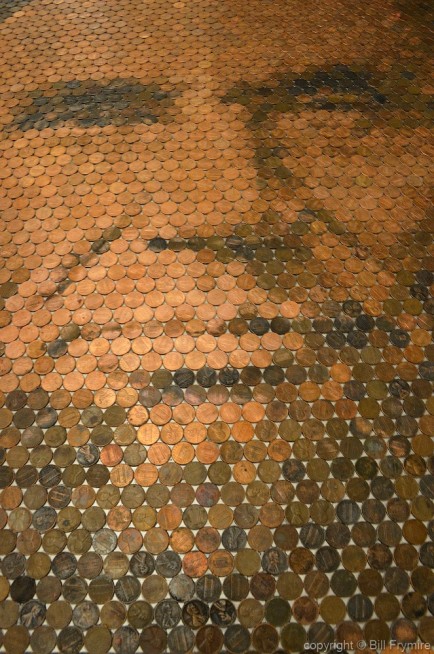 With the help of my CNC machine I designed and built the aluminum support structure. One of the main challenges was that I wanted it to be able to be taken apart so that both sides could be hung on a wall. I did tests with different glues to see which one held the pennies the best and could stand up to the elements. Because the sculpture will be outdoors all summer, I needed to seal the pennies to deter people from prying them off. The penny will be protected under a layer of epoxy resin and varnish to protect it from the sun, rain and inquiring screwdrivers.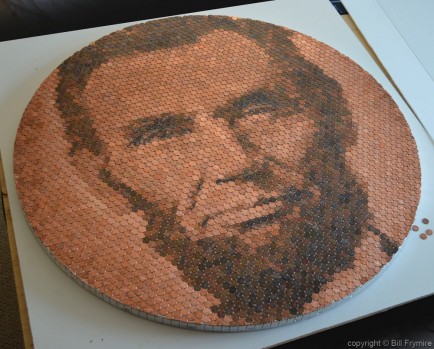 I didn't paint or draw on any of the pennies but did use a pencil eraser to bring out more details in the faces. Of course I've hidden a couple "draft dodger" pennies to make it interesting. When completed the coin sculpture will weigh about 170 lbs and have approximately 8150 total pennies, so I know it's worth at least $81.50! I'm asking $9500 or $5000 per side. Considering the hundreds of hours of work I've put into it, if it sells it will be hard to let it go, just like our Canadian penny.
Post Comment