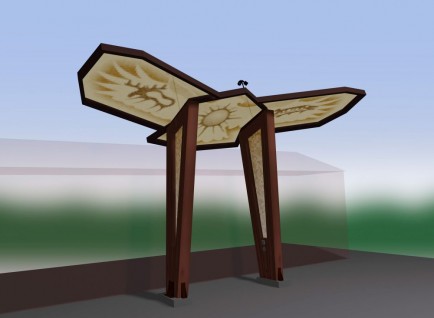 I am pleased to announce that I have been awarded the contract to create and install a canopy over the entrance to the Mikisew Elder Care centre in Fort Chipewyan Alberta. This piece of art spans almost 25 feet wide and 16 feet high. My design is a translucent onyx mosaic overhead with 15,000 individual tiles arranged to create a giant eagle silhouette with a moose and and a fish featured on the wings. The project is moving along and is slated for installation in February of 2014.
Created in a graphic style inspired by artist, Norval Morrisseau, this piece features three animals and their corresponding elements; the eagle, symbolizing air; the moose, symbolizing the earth and the fish, symbolizing water. They are represented together in an original mosaic made from translucent onyx stone. In the centre of the piece is an oval. Representing both the life-giving sun and the protective nurturing properties of an egg or womb, this oval element embodies the notion of security and care that our Elders provided us which we can now return to them.
This expansive mosaic, which faces down toward the people walking below, will be supported by large timber beams, representing the eagle's legs. The open stance of the legs creates a sense of welcome to visitors approaching the entrance while the Spirit Eagle's wings above provide shelter from the elements to those who venture under their protection.
Here is a 3D animation visualizing what it will look like next to the building. (transparent)
2 Comments on "Spirit Eagle Canopy"
Dee Baillie Says:
August 27th, 2013 at 8:31 am

Congratulations Bill! Your design of the Spirit Eagle Canopy is stunning and thoughtful. I look forward to seeing the finished installation.

Ugo Matulic Says:
January 5th, 2014 at 6:02 pm

I am a blog master of the NORVAL MORRISSEAU BLOG at http://norvalmorrisseau.blogspot.ca/ and I am asking permission to post this information to additionally promote you creation which is to be commended. I would give all credits to you directing readers to your site.

Thank you.

Ugo Matulic aka Spirit Walker.
Post Comment