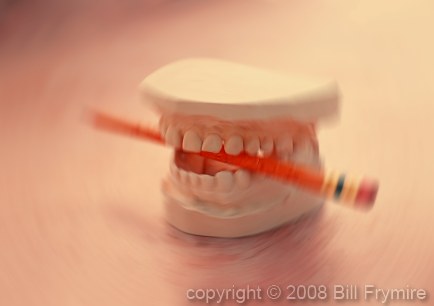 (click image to enlarge)
Whether it's the ups and downs of the market, the preparation for the holidays, or just life in general, December may be a time of stress for some. Take time everyday to do something that relieves stress – meditate, take a long hot soak, or just bite a pencil. Life is too short to spend it stressed out.
This image was created using my own molded dental casting that I requested from my dentist after he was done fixing a tooth (talk about stress). The casting sat for months in my studio before my brother gave me the idea when he put the pencil in the casting. The image was shot using my Nikon D1X. I gnawed on a pencil and then placed it in the mold. The motion blur was added using Photoshop.
You can find this image in my gallery under concepts>> stress >>clenched teeth.
Post Comment