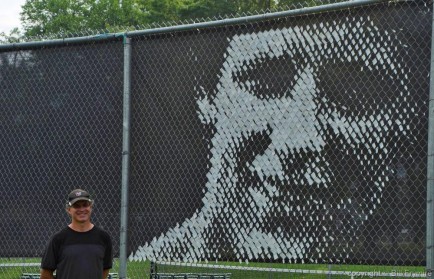 Over the weekend, I created an "art bomb" installation tribute to Terry Fox.  Strategically located in view of the running path at the back of the Kamloops Tennis Centre, the mosaic is created from up-cycled milk carton "pixels" that are heat sealed around the chain link fence.
A spur of the moment tribute, this project was inspired by Terry's courageous run and all those who have taken up that run in his place. The annual Terry Fox Run was running so the timing seemed appropriate  to help share Terry's legacy.  Everyone knows someone who has been affected by cancer and finding a cure was Terry's dream.
The moment I said Terry Fox there were no shortage of people wanting to help out. After much preparation, we started the mosaic at 11:15 pm. With the help of 12 volunteers made up of friends and family, we worked into the night with glue guns and car batteries.
After 2 am, the eight teens helping left for some late night munchies, leaving three of us to complete the piece. At about 3am we heard sprinklers go off and every 20 minutes a new set would go off, getting closer and closer to our location. Finally, at 3:45 am, a sprinkler head right next to us hastened a mad dash to pack up and remain dry. I wasn't quite finished.
I  came back and completed the mosaic early in the morning and was really touched by the encouragement I received from the participants in the Terry Fox Run as they ran by. A little inspiration for them as they ran past was worth all the effort.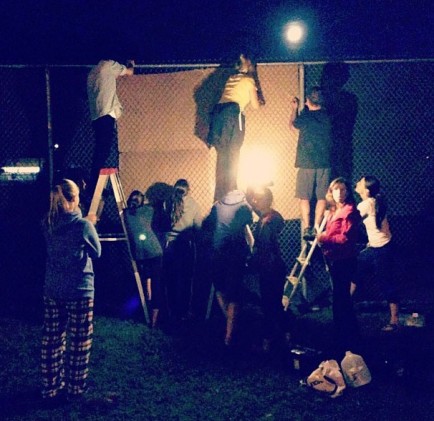 Here's a shot of the work crew in action. (Photo credit: Dane Pedersen).
Thanks to everyone who donated time and materials to make this project come to life – I couldn't have done it without your help.  For more photos of this project and other original art, check out my sister site, frymire-art.com.
Many thanks also to the original photographer Gail Harvey, who generously allowed us to use her photo of Terry.  Gail has a beautiful gallery of other Terry images on her site, many of which she used in her book, "Terry Fox: a pictorial tribute to the marathon of hope"; Gail also worked on the Terry Fox movie.
What do you think about this tribute?  Do you have any additional photos?  Leave a link in the comments below, and let me know what you think.  Make sure to follow me on G+ or Facebook and
Post Comment