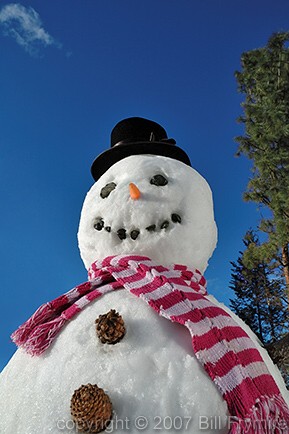 (click image to enlarge)
This was the image I had in my head as I shoveled snow from my driveway on Friday evening last week. We had experienced our first real snow of the season, the temperatures were still mild and I was having a love-fest with winter. Then… Saturday morning, the Artic winds that had been predicted, followed the beautiful snow and my nicely shoveled driveway was now covered again with a couple inches of blown snow, the temperatures had dropped to "nostrils-stuck-together" temperatures and my love affair with winter quickly ended. Not entirely of course as I am eagerly anticipating my first ski day after a dismal start to the ski season.
This image was shot in very late winter a couple of years ago using my Nikon D2X with a 18 – 35 mm lens.
You can find this image in my library under concepts>>holidays>>snowman
Post Comment